I want to see him impeached for the slow response in Katrina...sm
Posted By: Democrat on 2006-09-01
In Reply to: I think you are wrong about a lot agreeing. sm - LVMT

I think that alone is enough. Him and Blanco, and their coherts, they've got to go!!!


---
Complete Discussion Below:

marks the location of current message within thread
---
---
The messages you are viewing are archived/old.
To view latest messages and participate in discussions, select the boards given in left menu
---
Other related messages found in our database
---

must be a slow day in conservativeville
I think you are talking about yourself or your children..not me..conservative board must be slow today..git fool, git..go back to your hypocritical friends..
---
I read r-e-a-l slow
and I saw two words spelled incorrectly in your post.
---
I read real slow.
I checked 47 websites regarding Snopes reliability. Excluding those websites with an obvious agenda, I have come to the conclusion that Snopes is reliable.

Thanks ever so much. :)
---
Impeached
Impeached for presenting false information, which he knew was false, about Iraq. Now the spin from the republicans is that is the past, lets move on. ?? I can remember a few years back, when the country was doing real fine, and something that was in the past, i.e., a personal private matter, nothing to do with govt, was rehashed by the republicans and they actually tried to impeach a president for a private matter. Well, having an affair and not wanting to tell about it, as affairs are private matters, versus lies to the American people and consequently 1,744+ American lives killed to me Bushs lies are much more important and serious. Give me a lover of women in the WH rather than a warmonger murderer. With the evidence coming forward now, Downing Street Memos, and hearings being held in Congress, the people finally opening their eyes and not wanting any more deaths, Bush will be taken to task. Took a few years for the republicans to try to impeach the last president, it will take a bit of time but it will happen. Bush will have to answer for his lies. *Come on all you big strong men, Uncle Sam needs your help again..Bush got us into a terrible jam, way down yonder in Iraqi-land. Put down your books, pick up a gun, we are gonna have a whole lot of fun. One, two, three..what the freak are we fighting for?
---
He was impeached....
he just wasn't convicted, as the liberals keep pointing out. I have to say though, if you impeached him for cheating on his wife you would have to impeach a LOT of Presidents. My problem was that he committed a felony while a sitting President, that any other person would go to jail for...and these folks still defend it. Gives you an idea of where their "values" are.
---
Impeached?....(sm)
For what? Lying to the UN? Breaking the law by using torture? Trying to rewrite the constitution? ....uh oh....my bad....that was Bush, wasn't it? LOL.
---
Hope he doesn't slow down anytime soon...
As far as the way he debates, I like to think that he kind of stammers and stutters sometimes to buy himself time to really think about what he is going to say, as obviously saying one wrong thing can damage an entire campaign. I personally wish he would spit things out a bit faster, but in the end I can always see what he is trying to get at. Of course, he is my favorite candidate and I know where he stands on most issues anyway (I go to his website a lot), so that probably makes me more accepting of his style, I guess.
I hope he does not slow down, and I have a very good feeling that he won't. I think he is bringing out record numbers of young people out to vote, and I think that has been and will continue to be a huge part of his success. He does inspire people in general, and he obviously inspires them to vote! I've seen so many people comment on his MySpace page that they have never voted before but went and registered just so they could vote for him.
Obama has integrity, and I think many of us get the sense that he cannot be bought and will not work for big business but rather for the American people, and that is one of the things I like most about him. I guess I trust that he doesn't want the job for the paycheck but that he really wants to improve this country and the world in general. I'm sooooo sick of politicians voting according to what drug company is paying them the most money, or oil company, insurance company, etc. It is beyond outrageous at this point!
---
This is what Clinton was impeached for:
This is what he was impeached for:



The House voted 228 to 206 to approve proposed Article I of Impeachment (Perjury before a Federal Grand Jury), and voted 221 to 212 to approve proposed Article III of Impeachment (Obstruction of Justice).

And he was guilty of both. His impeachment had nothing to do with cigar dates with MOnica Lewinsky, though it should have...it had to do with lying under oath before a grand jury, and obstructing justice. Against the law in ALL 51 states. Also, he broke his presidential oath of office to uphold and defend the laws of the United States all to pieces. But that is okay, because he is Bill Clinton? How is it you liberals check any moral values you might have at the door whenever it suits you?
---
It's like watching a horrible car crash in really slow motion.
---
B Clinton was not impeached for sex crimes
To say he was impeached for "sex crimes" does the justice system a dishonor and is completely false. It also implies that he didn't do anything wrong and he was just impeached for having an affair (it tries to make it sound like he did nothing wrong and everyone was after him).
For all those who have forgotten, he was impeached for perjury, obstruction of justice, and abuse of power.
First there was travelgate, next was Vince Foster being shot then investigators being denied access to Foster's office however Clinton's aides entered within hours after he was shot and documents were removed. Then there was James & Susan McDougal, failed loans, alleged legal activities at Madison Guarantee, Webb Hubbell, Vernon Jordan, Paula Jones, Monica Lewinsky (which led to his lies) oh yes, and when asked why he had the affair he said "because I could" (not because I love her or even because I care for her or even because she's hot - no, "because I could?"). Then his lies led to Hillary lying and AL Gore lying. Then Bill lying more "That depends on what the meaning of is is", etc, etc. There were 11 impeachable offenses against Bill Clinton. That is Eleven of them. So to just say he was impeached for sex crimes is a false statement and does a disservice to the judicial system. This was one of the worst presidents (imo) and he was disgraced the office of president. Richard Nixon did not even have as many articles to be impeached for. The worst offense however was that he was not removed from office.
---
Impeached by a democratic majority?
What YOU smokin?? lol.
---
Poll: Americans Want Bush Impeached...see article
| | |
| --- | --- |
| Poll: Americans Want Bush Impeached | |
| by David Swanson | |
Poll: Americans Favor Bush's Impeachment If He Lied about Iraq
By a margin of 50% to 44%, Americans say that President Bush should be impeached if he lied about the war in Iraq, according to a new poll commissioned by AfterDowningStreet.org, a grassroots coalition that supports a Congressional investigation of President Bush's decision to invade Iraq in 2003.
The poll was conducted by Ipsos Public Affairs, the highly-regarded non-partisan polling company. The poll interviewed 1,001 U.S. adults on October 8-9.
The poll found that 50% agreed with the statement:
If President Bush did not tell the truth about his reasons for going to war with Iraq, Congress should consider holding him accountable by impeaching him.
44% disagreed, and 6% said they didn't know or declined to answer. The poll has a +/- 3.1% margin of error.
Those who agreed with the statement were also more passionate: 39% strongly agreed, while 30% strongly disagreed.
The results of this poll are truly astonishing, said AfterDowningStreet.org co-founder Bob Fertik. Bush's record-low approval ratings tell just half of the story, which is how much Americans oppose Bush's policies on Iraq and other issues. But this poll tells the other half of the story - that a solid plurality of Americans want Congress to consider removing Bush from the White House.
Impeachment Supported by Majorities of Many Groups
Responses varied by political party affiliation: 72% of Democrats favored impeachment, compared to 56% of Independents and 20% of Republicans.
Responses also varied by age and income. Solid majorities of those under age 55 (54%), as well as those with household incomes below $50,000 (57%), support impeachment.
Majorities favored impeachment in the Northeast (53%), West (51%), and even the South (50%).
Support for Impeachment Surged Since June
The Ipsos poll shows a dramatic transformation in support for Bush's impeachment since late June. (This is only the second poll that has asked Americans about their support for impeaching Bush in 2005, despite his record-low approval ratings.) The Zogby poll conducted June 27-29 of 905 likely voters found that 42% agreed and 50% disagreed with a statement virtually identical to the one used by Ipsos.

| | | | |
| --- | --- | --- | --- |
| | Ipsos 10/8-9 | Zogby 6/27-29 | Net Change |
| Support Impeachment | 50% | 42% | +8% |
| Oppose Impeachment | 44% | 50% | +6% |
| Impeachment Margin | +6% | -8% | +14% |
After the June poll, pollster John Zogby told the Washington Post that support for impeachment was much higher than I expected. At the time, impeachment supporters trailed opponents by 8%. Now supporters outnumber opponents by 6%, a remarkable shift of 14%.
Support for Clinton Impeachment Was Much Lower
In August and September of 1998, 16 major polls asked about impeaching President Clinton (http://democrats.com/clinton-impeachment-polls). Only 36% supported hearings to consider impeachment, and only 26% supported actual impeachment and removal. Even so, the impeachment debate dominated the news for months, and the Republican Congress impeached Clinton despite overwhelming public opposition.
Impeachment Support is Closely Related to Belief that Bush Lied about Iraq
Both the Ipsos and Zogby polls asked about support for impeachment if Bush lied about the reasons for war, rather than asking simply about support for impeachment. Pollsters predict that asking simply about impeachment without any context would produce a large number of I don't know responses. However, this may understate the percentage of Americans who favor Bush's impeachment for other reasons, such as his slow response to Hurricane Katrina, his policy on torture, soaring gasoline prices, or other concerns.
Other polls show a majority of U.S. adults believe that Bush did in fact lie about the reasons for war. A June 23-26 ABC/Washington Post poll found 52% of Americans believe the Bush administration deliberately misled the public before the war, and 57% say the Bush administration intentionally exaggerated its evidence that pre-war Iraq possessed nuclear, chemical or biological weapons.
Support for the war has dropped significantly since June, which suggests that the percentage of Americans who believe Bush lied about the war has increased.
Passion for Impeachment is Major Unreported Story
The strong support for impeachment found in this poll is especially surprising because the views of impeachment supporters are entirely absent from the broadcast and print media, and can only be found on the Internet and in street protests, including the large anti-war rally in Washington on September 24.
The lack of coverage of impeachment support is due in part to the fact that not a single Democrat in Congress has called for impeachment, despite considerable grassroots activism by groups like Democrats.com (http://democrats.com/impeach).
We will, no doubt, see an increase in activism following this poll, said David Swanson, co-founder of AfterDowningStreet.org. But will we see an increase in media coverage? The media are waiting for action in Congress. Apparently it's easier to find and interview one of the 535 members of Congress than it is to locate a representative of the half of the country that wants the President impeached if he lied about the war. The media already accepts that Bush did lie about the war. We know this because so many editors and pundits told us that the Downing Street Memo was 'old news.' What we need now is journalism befitting a democracy, journalism that goes out and asks people what they really think about their government, especially George Bush.
The passion of impeachment supporters is directly responsible for the Ipsos poll. After the Zogby poll in June, activists led by Democrats.com urged all of the major polling organizations to include an impeachment question in their upcoming polls. But none of the polling organizations were willing to do so for free, so on September 30, AfterDowningStreet.org posted a request for donations to fund paid polls (http://afterdowningstreet.org/polling). As of October 10, 330 individuals had contributed $8,919 in small donations averaging $27 each.
AfterDowningStreet.org has commissioned a second poll which is expected soon, and will continue to urge all polling organizations to include the impeachment question in their regular polls. If they do not, AfterDowningStreet.org will continue to commission regular impeachment polls.
Footnotes:
1. AfterDowningStreet.org is a rapidly growing coalition of veterans' groups, peace groups, and political activist groups that was created on May 26, 2005, following the publication of the Downing Street Memos in London's Sunday Times on May 1. The coalition is urging Congress to begin a formal investigation into whether President Bush committed impeachable offenses in connection with the Iraq war.
2.Here are the complete tables from the Ipsos poll, plus the definitions of regions used by Ipsos and the U.S. Census Bureau.
3. Zogby asked: If President Bush did not tell the truth about his reasons for going to war with Iraq, Congress should consider holding him accountable by impeaching him through impeachment.
4. Pollsters have offered various reasons for refusing to poll on impeachment. For example, Gallup said it would do so if, and when, there is some discussion of that possibility by congressional leaders, and/or if commentators begin discussing it in the news media.
Take action -- click here to contact your local newspaper or congress people:
Ask Media to Cover Public's Views on Impeachment
Click here to see the most recent messages sent to congressional reps and local newspapers
http://www.davidswanson.org
DAVID SWANSON is a co-founder of After Downing Street, a writer and activist, and the Washington Director of Democrats.com. He is a board member of Progressive Democrats of America, and serves on the Executive Council of the Washington-Baltimore Newspaper Guild, TNG-CWA. He has worked as a newspaper reporter and as a communications director, with jobs including Press Secretary for Dennis Kucinich's 2004 presidential campaign, Media Coordinator for the International Labor Communications Association, and three years as Communications Coordinator for ACORN, the Association of Community Organizations for Reform Now. Swanson obtained a Master's degree in philosophy from the University of Virginia in 1997.
---
Another classy response. I won't say liberal response,
because I don't think you and these pile-on posters are indicative of liberals as a whole. Don't know why they let you speak for them...but that is up to them. Obviously you don't think compassion is a personality trait...obviously you feel that it can be turned on and off to suit your agenda. So be it.
---
Katrina was
the classic Good Samaritan scenario in high def. The government failed but the true enlightened souls stepped up. Bless em all.
---
Katrina --
They should pull themselves up by their soaking wet boot straps and the federal government had no responsibility who do they think they are expecting help nobody ever gave me welfare I worked all my life but if anyone is to blame it is the local DEMOCRATS because what were they doing besides floating around on rafts the whole time anyway. Everybody knows this it is a plain as the dumb look on my face.
---
The Post Katrina Era




George Lakoff




It is impossible for me, as it is for most Americans, to watch the horror and suffering from Hurricane Katrina and not feel physically sore, pained, bereft, empty, heart-broken. And angry.




The Katrina Tragedy should become a watershed in American politics. This was when the usually invisible people suddenly appeared in all the anguish of their lives — the impoverished, the old, the infirm, the kids, and the low-wage workers with no cars, no tvs, no credit cards.


They showed up on America's doorsteps, entered the living rooms, and stayed.

Katrina will not go away soon, and she has the power to change America.


The moral of Katrina is mostly being missed. It is not just a failure of execution (William Kristol), or that bad things just happen (Laura Bush). It was not just indifference by the President, or a lack of accountability, or a failure of federal-state communication, or corrupt appointments in FEMA, or the cutting of budgets for fixing levees, or the inexcusable absence of the National Guard off in Iraq. It was all of these and more, but they are the effects, not the cause.

The cause was political through and through — a matter of values and principles. The progressive-liberal values are America's values, and we need to go back to them.

The heart of progressive-liberal values is simple: empathy (caring about and for people) and responsibility (acting responsibly on that empathy). These values translate into a simple principle: Use the common wealth for the common good to better all our lives. In short, promoting the common good is the central role of government.



The right-wing conservatives now in power have the opposite values and principles. Their main value is Rely on individual discipline and initiative. The central principle: Government has no useful role. The only common good is the sum of individual goods.




It's the difference between We're-all-in-this-together and You're-on-your-own-buddy.

It's the difference between Every citizen is entitled to protection and You're only entitled to what you can afford.

It's the difference between connection and separation.

It is this difference in moral and political philosophy that lies behind the tragedy of Katrina.





A lack of empathy and responsibility accounts for Bush's indifference and the government's delay in response, as well as the failure to plan for the security of the most vulnerable: the poor, the infirm, the aged, the children.


Eliminating as much as possible of the role of government accounts for the demotion of FEMA from cabinet rank, for Michael Brown's view that FEMA was a federal entitlement program to be cut, for the budget cuts in levee repair, for placing more responsibility on state and local government than they could handle. for the failure to fully employ the military, and for the lax regulation of toxic waste dumps contributing to a "toxic stew."
This was not just incompetence (though there was plenty of it), not just a natural disaster (though nature played its part), not just Bush (though he is accountable). This is a failure of moral and political philosophy — a deadly failure. That is the deep truth behind this human tragedy humanly caused.

It is a truth that needs to be told starting now – over and over. There can be no delay. The Bush administration is busy framing it in it's own way: bad things just happen, it's no one's fault; the federal government did the best it could — the problem was at the state and local level; we'll rebuild and everything will be okay; the people being shipped out will have better lives elsewhere, and jobs in WalMart! Unless the real truth is told starting now, the American people will accept it for lack of an alternative.
---
Katrina fiasco
Somebody's finally gotten it right and isn't afraid to say so.
---
Katrina and Gustav
Remember where Dubya was when New Orleans was drowning? Having his picture taken while eating cake with John McCain. Now we have Gustav. What interesting timing. Perhaps Palin was selected because she is a good baker .... ? ? ? ....
---
McCain and Katrina
McCain Katrina
In New Orleans on 4/24/08, McCain said: "I would've landed my airplane at the nearest Air Force base and come over personally." But as Newsweek notes, on Aug. 29, 2005, when Katrina had just hit New Orleans, McCain was posing with President Bush for his 69th birthday.

McCain aggressively sought the endorsement of conservative evaneglical leader John Hagee, who said repeatedly that Hurricane Katrina was punishment to New Orleans.
McCain told reporters he was not sure if he would rebuild the lower 9th ward as president. "That is why we need to go back is to have a conversation about what to do -rebuild it, tear it down, you know, whatever it is," he said.
Transplanted Texan writes,



I guess it's no surprise. McCain has opposed the creation of an independent 9/11-style commission to investigate the failure of the levees, voted against a 2006 bill that included $28 billion in hurricane relief, and opposed Medicaid and unemployment benefits for Katrina victims.



---
I actually think that Katrina victims have gotten...
more than enough compassion. Having just moved from the Mississippi Gulf Coast, where the hurricane hit the hardest, by the way, not New Orleans, I have seen people milk this hurricane for all it's worth. It has been 3 years, for goodness sake. Don't whine because they are taking away your FEMA trailer--and some people steal them--get a freakin job already! Also, I would be so upset if my husband had to risk his life as a first responder to help people that should not have been there in the first place. They were told to leave and even given transportation, but many chose not to. I can understand those who are handicapped or very old, but able bodied, non-working, wefare begging young people make me angry and, no, I do not think that they deserve any more compassion. Every one of them can come up with enough money for several packs of cigarettes a week, but can't feed their kids or find a place to live on their own. It is a real problem.
---
Why Jindal used Katrina as example
Jindal used Katrina as an example,a word picture, as an example of government not working. He was not talking about corruption in Washington D.C. but in Louisiana (which was pretty bad)So what if the pubs have not ever proposed healthcare reform - we are doing it now! Sorry, you are wrong! The spirit of the people in Louisiana because of Bobby Jindal is awsome! He is such a relief after years of corruption - trust me! I live in Louisiana!
---
Hurricane Katrina: A sign from God.
God is telling us that Bush is an idiot who destroys everything in (and out of) his path, and it's time for Americans to wake up.
---
Katrina and Disgusting Exploitation.
Katrina and Disgusting Exploitation
| | | |
| --- | --- | --- |
| By James K. Glassman | Published | 08/31/2005 |
A profound tragedy is unfolding in New Orleans, the most beautiful city in America, with the richest cultural history and the most wonderful style of living. I lived in New Orleans for seven years. I was married there. My children were born there. I have many friends there.
My daughter, her husband and their little baby managed to get out of the city ahead of the flood on Sunday, driving 14 hours into Texas with the few belongings they could stuff into their car. They have no idea what has become of their house and their possessions, not to mention their friends, their pets, their jobs, their way of life.
Tragedies happen, and my daughter and her family are happy just to be alive. Their losses and those of hundreds of thousands of other innocents deserve mourning, prayer and respect.
That is why the response of environmental extremists fills me with what only can be called disgust. They have decided to exploit the death and devastation to win support for the failed Kyoto Protocol, which requires massive cutbacks in energy use to reduce, by a few tenths of a degree, surface warming projected 100 years from now.
Katrina has nothing to do with global warming. Nothing. It has everything to do with the immense forces of nature that have been unleashed many, many times before and the inability of humans, even the most brilliant engineers, to tame these forces.
Giant hurricanes are rare, but they are not new. And they are not increasing. To the contrary. Just go to the website of the National Hurricane Center and check out a table that lists hurricanes by category and decade. The peak for major hurricanes (categories 3,4,5) came in the decades of the 1930s, 1940s and 1950s, when such storms averaged 9 per decade. In the 1960s, there were 6 such storms; in the 1970s, 4; in the 1980s, 5; in the 1990s, 5; and for 2001-04, there were 3. Category 4 and 5 storms were also more prevalent in the past than they are now. As for Category 5 storms, there have been only three since the 1850s: in the decades of the 1930s, 1960s and 1990s.
But that doesn't stop an enviro-predator like Robert F. Kennedy Jr. from writing on the Huffingtonpost website: Now we are all learning what it's like to reap the whirlwind of fossil fuel dependence which Barbour and his cronies have encouraged. Our destructive addiction has given us a catastrophic war in the Middle East and - now -- Katrina is giving our nation a glimpse of the climate chaos we are bequeathing our children.
Or consider Jurgen Tritten, Germany's environmental minister, in an op-ed in the Frankfurter Rundschau. He wrote (according to a translation prepared for me): By neglecting environmental protection, America's president shuts his eyes to the economic and human damage that natural catastrophes like Katrina inflect on his country and the world's economy.
The bright side of Katrina, concludes Tritten, is that it will force President Bush to face facts. When reason finally pays a visit to climate-polluter headquarters, the international community has to be prepared to hand America a worked-out proposal for the future of international climate protection.
He goes on, There is only one possible route of action. Greenhouse gases have to be radically reduced, and it has to happen worldwide. In other words, thanks to Katrina, we'll finally get Kyoto enforced. (He might start at home, by the way. Europe is not anywhere close to reducing CO2 to Kyoto standards. In fact, the U.S. is doing much better than many Kyoto ratifiers.)
Ross Gelbspan, in a particularly egregious, almost giddy piece in the Boston Globe that was reprinted in the International Herald Tribune, wrote that the hurricane was nicknamed Katrina by the National Weather Service Katrina, [but] its real name was global warming. He also finds global warming responsible for droughts in the Midwest, strong winds in Scandinavia and heavy rain in Dubai. The reason for all this devastation, of course, is that the Bush Administration is controlled by coal and oil interests.
And the Independent, a widely read British newspaper, reported today that Sir David King, the British Government's chief scientific adviser, has warned that global warming may be responsible for the devastation reaped by Hurricane Katrina. King contended that the increased intensity of hurricanes is associated with global warming.
The Kyoto advocates point to warmer ocean temperatures, but they ought to read their own favorite newspaper, The New York Times, which reported yesterday:
Because hurricanes form over warm ocean water, it is easy to assume that the recent rise in their number and ferocity is because of global warming. But that is not the case, scientists say. Instead, the severity of hurricane seasons changes with cycles of temperatures of several decades in the Atlantic Ocean. The recent onslaught 'is very much natural,' said William M. Gray, a professor of atmospheric science at Colorado State University who issues forecasts for the hurricane season.'
An article on TCS quoted Gray last year as saying that, while some groups and individuals say that hurricane activity lately may be in some way related to the effects of increased man-made greenhouse gases such as carbon dioxide,…there is no reasonable scientific way that such an interpretation…can be made.
Indeed, there is no evidence that hurricanes are intensifying anyway. For the North Atlantic as a whole, according to the United Nations Environment Programme of the World Meteorological Organization: Reliable data…since the 1940s indicate that the peak strength of the strongest hurricanes has not changed, and the mean maximum intensity of all hurricanes has decreased.
Yes, decreased.
Not only has the intensity of hurricanes fallen, but, as George H. Taylor, the state climatologist of Oregon has pointed out, so has the frequency of hailstorms in the U.S. (see Changnon and Changnon) and cyclones throughout the world (Gulev, et al.).
But environmental extremists do not want to be bothered with the facts. Nor do they wish to mourn the destruction and death wreaked on a glorious city. To their everlasting shame, they would rather distort and exploit.
---
Katrina Pushes Bush Down Further
A new Survey USA tracking poll suggests a can't win dynamic is unfolding for President Bush as he struggles to deal with the destruction caused by Hurricane Katrina.

The number of Americans who now approve of the President's response to Hurricane Katrina is down: 40% today compared to 42% before he announced the Gulf Opportunity Zone in a speech last week. The number of Americans who disapprove of the President's response to Katrina is up: 56% today compared to 52% before the speech.

Key point: The more cash President Bush throws on the fire, as compensation for what some see as an inadequate initial response, the more it antagonizes his core supporters.
---
Yes, we are so horrible we are fundraising for Katrina right now.
HORRIBLE PEOPLE WE ARE!
---
Last Katrina child goes home
Last Katrina child goes home
A mother and her missing daughter are reunited seven months after a hurricane devastated New Orleans
THE last of more than 5,000 children missing after Hurricane Katrina has finally been reunited with her mother, ending the largest child-recovery effort in US history.
After seven months of searching by her mother, amid fears that her daughter had died in the flooding in New Orleans that followed the hurricane in August, four-year-old Cortez Stewart was reunited with her family in Texas.
Cortez was the last of the 5,192 Gulf Coast children listed as missing or displaced after Hurricanes Katrina and Rita struck the region. Of those, all but 12 have been found alive and all of those are now back with their parents.

For Lisa Stewart the happy ending came when she was contacted by the National Centre for Missing & Exploited Children that said it had found her daughter. "I was overwhelmed, happy, joyous," she said.

During their separation her daughter's fourth birthday had passed last November with no sign that she was dead or alive. "It was devastating," Mrs Stewart said.

When the storm struck, Cortez was with her godmother, Felicia Williams. After seeking refuge in a hotel, Cortez and Ms Williams were winched to safety by helicopter and flown to Atlanta, Georgia.

Mrs Stewart and her five other children were rescued from their home in New Orleans as the floodwater rose.

They were taken to the nearest piece of dry land, an interstate overpass, where they stayed for four days, before being evacuated and placed in a flat in Houston, Texas. For months Ms Williams and Mrs Stewart tried to make contact, not knowing if the other was alive, but without success. Their efforts were hampered by incorrect name spellings and other misleading information given to government officials.

"Many agencies didn't have a good account of who they were helping," Bob O'Brien, director of the centre's missing children division, said. "More than 411,000 were evacuated to more than 40 states, and it became very hard to track the movement."

The centre traced information about Ms Williams through her former employer and then located relations in Georgia. When Cortez was reunited with her mother and five siblings last week in Houston, Mrs Stewart almost fell upon her, screaming: "The baby! It's the baby!"
More than 12,000 adults were reported missing after Katrina. About 1,900 are still missing. More than 1,300 others have been confirmed dead.
---
If Katrina was a clue, I would say probably UN forces.sm
In addition to the Blackwater security and Israelis, armed Mexican soldiers entered the US for the first time since 1800s to supposedly provide aid. Possibly conditioning Americans to the perception that foreign troops on US soil policing US citizens in times of emergency is normal. I know they train here on our military bases because I have met some in Colorado, mainly Romanians.

The Army Times reported that hurricane survivors who wouldn't leave New Orleans were to be treated as insurgents and that combat operations to eliminate them were undertaken. This is where the so-called 'relief' effort was directed towards - treating American citizens like terrorists and hunting them down simply for wanting to stay in their own homes. And once they were caught, FEMA treated evacuees as internees, registering them and giving them ID cards, preventing them from leaving the internment camps.


---
This is about Katrina/Bush, not Clinton.
nm
---
O would never vote no on Katrina funds unless
Just for good measure, I am going to post the reasons I know that to be fact.
http://thinkonthesethings.wordpress.com/2007/08/29/when-the-cameras-are-off-barack-obamas-hurricane-katrina-record/
1. Here is O's record on rebuilding after Hurriane Katrina
2. Sept. 2, 2005: Obama holds press conference urging Illinoisans to contribute to the Hurricane Katrina relief efforts.
3. Sept. 5, 2005: Obama goes to Houston to visit evacuees with Presidents Clinton and Bush.
4. Sept. 7, 2005: Obama introduces bill to create a national emergency family locator system
5. Sept. 8, 2005: Obama introduces bill to create a National Emergency Volunteers Corps. Sept. 8, 2005: Obama co-sponsors the Katrina Emergency Relief Act of 2005 introduced by Senator Harry Reid
6. Sept. 8, 2005: Obama co-sponsors the Hurricane Katrina Bankruptcy Relief and Community Protection Act of 2005 introduced by Senator Russ Feingold
7. Sept. 12, 2005: Obama introduces legislation requiring states to create an emergency evacuation plan for society's most vulnerable
8. Sept. 15, 2005: Obama issues public response to President Bush's speech about Gulf Coast rebuilding.
9. Sept. 21, 2005: Obama co-sponsors bill to establish a Katrina commission to investigate response to the disaster introduced by Hillary Clinton
10. Sept. 21, 2005: Obama appears on NPR to discuss the role of poverty in Hurricane Katrina.
11. Sept. 22, 2005: Obama and Coburn's Hurricane Katrina financial oversight bill unanimously passes Senate committee.
12. Sept. 22, 2005: Obama's amendment requiring evacuation plans unanimously passes Senate committee.
13. Sept. 28, 2005: Obama and Coburn issue statement about the need for a Chief Financial Officer to oversee the financial mismanagement and suspicious contracts occurring in the reconstruction process
14. Sept. 29, 2005: Obama and Coburn investigate possible FEMA refusal of free cruise ship offer
15. Oct. 6, 2005: Obama and Coburn issue statement on FEMA Decision to re-bid Katrina contracts
16. Oct. 6, 2005: Obama co-sponsors Gulf Coast Infrastructure Redevelopment and Recovery Act of 2005.
17. Oct. 21, 2005: Obama releases statement decrying the extension of FEMA director, Michael "Brownie" Brown's contract. Obama calls Brown's contract extension, "unconscionable."
18. Nov. 17, 2005: Obama and Coburn introduce legislation asking FEMA to immediately re-bid all Katrina reconstruction contracts.
19. Feb. 1, 2006: Obama gives Senate floor speech on his legislation to help children affected by Hurricane Katrina
20. Feb. 2, 2006: Obama introduces legislation to help low-income children affected by Hurricane Katrina
21. Feb. 23, 2006: Obama issues statement responding to a White House report on Hurricane Katrina. Obama noted that the top two recommendations that the report had for the federal government were initiatives he had been working on since immediately after the storm hit. Obama called the administration's response "delinquent."
22. May 2, 2006: Obama gives speech about no-bid contracts in Hurricane Katrina reconstruction
23. May 4, 2006: Obama's legislation to end no-bid contracts for Hurricane Katrina reconstruction passed the Senate.
24. June 15, 2006: Obama and Coburn announce legislation to require amendment to create competitive bidding for Hurricane Katrina reconstruction for federal contracts over $500,000. Although it passed previously, the language was stripped in conference.
25. June 15, 2006: Obama releases podcast about his pending Katrina reconstruction legislation in the Senate.
26. June 16, 2006: Obama and Coburn get no-bid Hurricane Katrina reconstruction amendment into Department of Defense authorization bill.
27. July 14, 2006: Obama and Coburn's legislation to end abuse of no-bid contracts passes senate as amendment to Department of Defense authorization bill.
28. August 11, 2006: Obama visits Xavier University in New Orleans to give Commencement address
29. August 14, 2006: Obama and Coburn ask FEMA to address ballooning no-bid contracts for Gulf Coast reconstruction
30. Sept. 29, 2006: Obama and Coburn legislation to prevent abuse of no-bid contracts in the wake of disaster passes Senate to be sent to President's desk to become law.
31. Feb. 2007-Present: As Obama begins his Presidential campaign he references Katrina as a part of his stump speech as he travels around the country in his familiar line, "That we are not a country which preaches compassion and justice to others while we allow bodies to float down the streets of a major American city. That is not who we are."
32. June 20, 2007: Obama co-sponsors Gulf Coast Housing Recovery Act of 2007 introduced by Senator Chris Dodd.
33. July 27, 2007: Obama and colleagues get a measure in the Homeland Security bill that will investigate FEMA trailers that may contain the toxic chemical, formaldehyde.
34. Aug. 26, 2007: Obama outlines a detailed Hurricane Katrina recovery plan.
35. December 18, 2007: Obama calls on President Bush to protect affordable housing in New Orleans
36. February 16, 2008: Obama releases statement on toxic Gulf Coast trailers

---
let people drown in Katrina?
Are you serious. Those people were told to evacuate. They were given transportation to do so and places to go. If they chose to stay, what should Bush have personally done for them? Deliver SCUBA gear? Be realistic.
---
Katrina Reveals Poverty Reality
It wasn't long ago that I was told by my conservative mtstars buddies that poverty in American was not as bad as we thought. To them poverty only meant you didn't have extra spending money and that the impoverished had color TVs, air conditioning, cars, the whole enchilada. They even went through the spiel of posting articles to support them. It has always been my opinion that poverty is alive and well in America and Katrina has unfortunately revealed this to us all too tragically.
--------------------
Katrina Reveals Poverty Reality
Thursday, September 08, 2005
By Kelley Beaucar Vlahos
Stories of the grinding poverty among the survivors of Hurricane Katrina in New Orleans vividly illustrate what many say is a forgotten truth of modern American life — that pockets of desperate poverty still exist in a country of unsurpassed wealth and privilege.
Underscoring that reality, a report by the U.S. Census Bureau (search) released the same week Katrina hit the nation's southeast announced that the national poverty rate rose for the fourth straight year despite continuing growth in production and political rhetoric that the nation's economy is on the upswing.
Click here to read the U.S. Census Bureau's report.
According to that report, the number of Americans living under the poverty line grew by 1.1 million in 2004 for a total of 37 million people nationwide. That equals 12.7 percent of the total U.S. population. It is the fourth annual increase.
[Poverty] is a problem in America that hasn't gone away — it just went underground for a while, and it shouldn't have, said Sheila Zedlewski, director of the Urban Institute's Income and Benefits Policy Center.
Through images of the predominantly black residents of New Orleans pleading for help, leaving destroyed homes with nothing but the clothes on their backs, America got a wake-up call according to Sheldon Danziger at the National Poverty Center at the University of Michigan.
People are putting these things together, and it will be interesting to see if the attention of the public stays on this, he said. As a country we'd like to think we moved beyond it, but in reality, [poverty] is still a substantial problem.
Others caution against putting too much weight into the new numbers, pointing out that they do not reflect the public assistance low-income individuals and families receive, like Medicaid (search) and welfare, and do not distinguished between truly impoverished individuals and those who are temporarily poor.
The poverty rate began to climb in 2000, the year it hit a 26-year low of 11.3 percent of Americans living under the poverty level, according to U.S Census Bureau figures. That was the lowest point since 1974, when the number was 11.2 percent. The highest point of poverty in recent times was in 1993 at 15.1 percent. Before that, was in 1983, at 15.2 percent.
In 2004, according to the latest study, the poverty rate among African Americans remained the same — at 24.7 percent. Hispanics also saw no change in their poverty rate at 21.9, while whites saw an increase, from 8.2 percent to 8.6 percent. Asian Americans experienced the only decrease, from 11.8 percent to 9.8 percent.
The poverty rate among American families remained at 10.2 percent of the population in 2004. The Office of Budget and Management (search) defines a family of two adults and two children with a median household income of $19,157 or less as living in poverty; or a family of two with no children, making $12,649 a year.
Median household income went unchanged in 2004, according to the census bureau, at $44,389. Blacks continue to have the lowest median income among all ethnic and racial groups, making $30,134 annually.
Wages earned among Americans, however, declined in 2004. For men over 15 working full-time, year round, the real median earnings declined 2.3 percent from 2003, to $40,798. For women with similar work experiences, wages declined by 1 percent to $31,223.
And while unemployment has gone down from 5.5 percent in August 2004 to 4.9 percent in August this year, unemployment among blacks is still the highest in the country, at 9.6 percent in August compared to 4.2 percent for whites and 5.8 for Hispanics.
In New Orleans, where blacks make up 67 percent of the population, 27 percent of the residents are living below poverty level according to a recent study by Total Community Action, Inc. (search), a public advocacy group based in New Orleans.
Click here to read that study.
But some warn that the new census bureau figures may not be an ideal measure, given that they do not take into account the impact of public assistance on a household, or recent tax cuts and child tax credits. Others say the poverty rate had been in steady decline since the early 1990's and see the recent increases as the tail end of the 2000 recession.
It's a bit unfortunate to link the hurricane with the issue of poverty in this country, as though there has been no reduction in poverty since the 1980's, said Rey Hederman, senior policy analyst for the Heritage Foundation.
Since a high point in 1983 the poverty rate for the U.S has been on a decline, aside from the four years following the brief recession in 1989 and the most recent hike, according to the Census Bureau.
Like other economic analysts, Hederman believes the growth in productivity in the U.S economy will eventually produce more jobs and higher incomes for workers.
But so far, Hederman admits, that hasn't happened.
We've got strong productive growth but wages have been relatively stagnant. It's a bit of a paradox as to why it hasn't happened sooner, said Phillip Swagel of the American Enterprise Institute, who blames, in part, the Internet bust six years ago.
Nonetheless, he calls today's economy the most golden era for productivity growth in more than 50 years.
In the short term, it means that firms have been able to produce more without hiring more people, Swagel continued. But in the long term, it will mean that wages and income will go up. It takes time for that relationship to take hold.
But on Wednesday, the Congressional Budget Office (search) announced that hurricane's damage to the southeast could reduce national economic growth by nearly a percent at time when forecasters were hoping for a three to four percent increase by the end of the year. It also expects a loss of 400,000 jobs in the labor market.
Some say that inner cities that have never fully recovered from past economic recessions will no doubt be the hardest hit.
I think for the last 25 years, we have had an economy where most of the gains have been concentrated in a small percentage of the workforce, said Danziger. [The] rising tide has not lifted all boats, the economy has shifted so that a smaller portion of the population gets the increases, and the rest is simply happy to have jobs that experience no wage increase or income increases.
According to the recent Total Community Action study, poverty rates have remained stagnant in New Orleans in the last 40 years and even without the near total destruction of the city, have been the highest in the nation.
It would be ironic that it would take a disaster like this to focus [national attention] on this,
Rep. Mel Watt, R-N.C., and member of the Congressional Black Caucus (search), told FOXNews.com, Every area of our lives these disparities exist and we have tried to focus on them all year.
Minority populations left behind in many cities often suffer from bad schools and are at a real disadvantage compared to their suburban middle class and affluent counterparts, say experts.
The poverty differences by education, by race, by central city versus the suburbs, are long standing, said Danziger, who also said that by leaving New Orleans' most disadvantaged, immobile residents behind the hurricane clearly brought that into stark contrast.
The Urban Institute's Zedlewski admits that over the last several years more resources have been focused on the symptoms of poverty — poor education and healthcare.
If you look at the long haul it is true progress has been made, she said, adding that more needs to be done, particularly in the African American community, regarding single motherhood, the high rate of incarcerated males and investing in adult education.
Swagel, who recently left his job as chief of staff for the White House Council of Economic Advisors (search), believes the current administration has put into place policies — notably tax cuts — that have stimulated growth and are benefiting middle and lower income families the most.
I would say our policies are on the right track, he said. They are working in the right direction, and we should not reverse course when things are improving.
Watt doesn't buy the tax cut stimulus scenario. As soon as this President came in and passing these massive tax cuts, [the poverty rate] turned and went in the opposite direction, he said. This administration is about supporting people of higher income and it makes no bones about it.
Meanwhile, thousands of displaced people from New Orleans are looking for jobs, and trying to begin new lives in places like Houston and Baton Rouge. Poverty advocates hope that in the long term, available education and job training opportunities, as well as the higher wages that have been promised by economists, aren't out of reach.
---
Katrina Reveals Poverty Reality
Katrina Reveals Poverty Reality
Friday, September 09, 2005
By Kelley Beaucar Vlahos
Stories of the grinding poverty among the survivors of Hurricane Katrina in New Orleans vividly illustrate what many say is a forgotten truth of modern American life — that pockets of desperate poverty still exist in a country of unsurpassed wealth and privilege.
Underscoring that reality, a report by the U.S. Census Bureau (search) released the same week Katrina hit the nation's southeast announced that the national poverty rate rose for the fourth straight year despite continuing growth in production and political rhetoric that the nation's economy is on the upswing.
Click here to read the U.S. Census Bureau's report.
According to that report, the number of Americans living under the poverty line grew by 1.1 million in 2004 for a total of 37 million people nationwide. That equals 12.7 percent of the total U.S. population. It is the fourth annual increase.
[Poverty] is a problem in America that hasn't gone away — it just went underground for a while, and it shouldn't have, said Sheila Zedlewski, director of the Urban Institute's Income and Benefits Policy Center.
Through images of the predominantly black residents of New Orleans pleading for help, leaving destroyed homes with nothing but the clothes on their backs, America got a wake-up call according to Sheldon Danziger at the National Poverty Center at the University of Michigan.
---
911 and Katrina victims don't deserve compassion?
Wow....Oh that's right...he's on Fixed Noise. That means he must be the perfect pub. Get a grip. The man's a radical right winger just like the rest of the crew over there.
---
911 and Katrina victims don't deserve compassion?
Wow....Oh that's right...he's on Fixed Noise. That means he must be the perfect pub. Get a grip. The man's a radical right winger just like the rest of the crew over there, which is the why, by the way, he got kicked off CNN. Hopefully Lou Dobbs will be next.
---
Water Rising in New Orleans....Get your tissues. OMG Katrina.
Rescuers Race to Save Katrina Victims
Tuesday, August 30, 2005
NEW ORLEANS — Rescuers along the hurricane-ravaged Gulf Coast pushed aside the dead to reach the living Tuesday in a race against time and rising waters, while New Orleans sank deeper into crisis and Louisiana's governor ordered storm refugees out of this drowning city.
As looters stripped stores of items, sometimes in front of police, violence broke out in the Big Easy. At around 11 p.m. EDT, two gunmen with AK-47s fired shots into a police station. No one was hurt, and the men fled into the city's French quarter section.
Meanwhile, two levees broke and sent water coursing into the streets of New Orleans a full day after the city appeared to have escaped widespread destruction from Hurricane Katrina. An estimated 80 percent of the below-sea-level city was under water, up to 20 feet deep in places, with miles and miles of homes swamped.
The situation is untenable, Gov. Kathleen Blanco said. It's just heartbreaking.
One Mississippi county alone said its death toll was at least 100, and officials are very, very worried that this is going to go a lot higher, said Joe Spraggins, civil defense director for Harrison County, home to Biloxi and Gulfport.
Several victims in the county were from a beachfront apartment building that collapsed under a 25-foot wall of water as Katrina slammed the Gulf Coast with 145-mph winds. And Louisiana officials said many were feared dead there, too, making Katrina one of the most punishing storms to hit the United States in decades.
After touring the destruction by air, Mississippi Gov. Haley Barbour said it is not of case of homes being severely damaged, they're simply not there. ... I can only imagine that this is what Hiroshima looked like 60 years ago.
New Orleans Mayor Ray Nagin said hundreds, if not thousands, of people may still be stuck on roofs and in attics, and so rescue boats were bypassing the dead.
We're not even dealing with dead bodies, Nagin said. They're just pushing them on the side.
The flooding in New Orleans grew worse by the minute, prompting the evacuation of hotels and hospitals and an audacious plan to drop huge sandbags from helicopters to close up one of the breached levees. At the same time, looting broke out in some neighborhoods, the sweltering city of 480,000 had no drinkable water, and the electricity could be out for weeks.
With water rising perilously inside the Superdome, Blanco said the tens of thousands of refugees now huddled there and other shelters in New Orleans would have to be evacuated.
She asked residents to spend Wednesday in prayer.
That would be the best thing to calm our spirits and thank our Lord that we are survivors, she said. Slowly, gradually, we will recover; we will survive; we will rebuild.
A helicopter view of the devastation over the New Orleans area revealed people standing on black rooftops baking in the sunshine while waiting for rescue boats. A row of desperately needed ambulances were lined up on the interstate, water blocking their path. Roller coasters jutted out from the water at a Six Flags amusement park. Hundreds of inmates were seen standing on a highway because the prison had been flooded.
Sen. Mary Landrieu (news, bio, voting record) quietly traced the sign of the cross across her head and chest as she looked out at St. Bernard Parish, where only roofs peaked out from the water.
The whole parish is gone, Landrieu said.
All day long, rescuers in boats and helicopters pulled out shellshocked and bedraggled flood refugees from rooftops and attics. Lt. Gov. Mitch Landrieu said that 3,000 people have been rescued by boat and air, some placed shivering and wet into helicopter baskets. They were brought by the truckload into shelters, some in wheelchairs and some carrying babies, with stories of survival and of those who didn't make it.
Oh my God, it was hell, said Kioka Williams, who had to hack through the ceiling of the beauty shop where she worked as floodwaters rose in New Orleans' low-lying Ninth Ward. We were screaming, hollering, flashing lights. It was complete chaos.
Frank Mills was in a boarding house in the same neighborhood when water started swirling up toward the ceiling and he fled to the roof. Two elderly residents never made it out, and a third was washed away trying to climb onto the roof.
He was kind of on the edge of the roof, catching his breath, Mills said. Next thing I knew, he came floating past me.
Across Louisiana, Mississippi and Alabama, more than 1 million residents remained without electricity, some without clean drinking water. An untold number who heeded evacuation orders were displaced and 40,000 were in Red Cross shelters, with officials saying it could be weeks, if not months, before most will be able to return.
Emergency medical teams from across the country were sent into the region and President Bush cut short his Texas vacation Tuesday to return to Washington to focus on the storm damage.
Federal Emergency Management Agency director Mike Brown warned that structural damage to homes, diseases from animal carcasses and chemicals in floodwaters made it unsafe for residents to come home anytime soon. And a mass return also was discouraged to keep from interfering with rescue and recovery efforts.
That was made tough enough by the vast expanse of floodwaters in coastal areas that took an eight-hour pounding from Katrina's howling winds and up to 15 inches of rainfall. From the air, neighborhood after neighborhood looked like nothing but islands of rooftops surrounded by swirling, tea-colored water.
In New Orleans, the flooding actually got worse Tuesday. Failed pumps and levees apparently spilled water from Lake Pontchartrain into streets. The rising water forced hotels to evacuate, led a hospital to boatlift patients to emergency shelters, and drove the staff of New Orleans' Times-Picayune newspaper out of its offices.
Officials planned to use helicopters to drop 3,000-pound sandbags and dozens of giant concrete barriers into the breach, and expressed confidence the problem could be solved. But if the water rose a couple feet higher, it could wipe out water system for whole city, said New Orleans' homeland security chief Terry Ebbert.
A clearer picture of the destruction in Alabama became to emerge Tuesday: cement slabs where homes once stood, a 100-foot shrimp boat smoldering on its side, people searching for swept-away keepsakes. The damage in some areas appears to be worse than last year's Hurricane Ivan.
In devastated Biloxi, Miss., areas that were not underwater were littered with tree trunks, downed power lines and chunks of broken concrete. Some buildings were flattened.
The string of floating barge casinos crucial to the coastal economy were a shambles. At least three of them were picked up by the storm surge and carried inland, their barnacle-covered hulls sitting up to 200 yards inland.
One of the deadliest spots appeared to be Biloxi's Quiet Water Beach apartments, where authorities estimated 30 people were washed away, although the exact toll was unknown. All that was left of the red-brick building was a concrete slab.
We grabbed a lady and pulled her out the window and then we swam with the current, 55-year-old Joy Schovest said through tears. It was terrifying. You should have seen the cars floating around us. We had to push them away when we were trying to swim.
Said Biloxi Mayor A. J. Holloway: This is our tsunami.
Looting became a problem in both Biloxi and in New Orleans, in some cases in full view of police and National Guardsmen. One police officer was shot in the head by a looter in New Orleans, but was expected to recover, Sgt. Paul Accardo, a police spokesman.
On New Orleans' Canal Street, which actually resembled a canal, dozens of looters ripped open the steel gates on clothing and jewelry stores, some packing plastic garbage cans with loot to float down the street. One man, who had about 10 pairs of jeans draped over his left arm, was asked if he was salvaging things from his store.
No, the man shouted, that's EVERYBODY'S store!
Looters at a Wal-Mart brazenly loaded up shopping carts with items including micorwaves, coolers and knife sets. Others walked out of a sporting goods store on Canal Street with armfuls of shoes and football jerseys.
Outside the broken shells of Biloxi's casinos, people picked through slot machines to see if they still contained coins and ransacked other businesses.
People are just casually walking in and filling up garbage bags and walking off like they're Santa Claus, said Marty Desei, owner of a Super 8 motel.
Insurance experts estimated the storm will result in up to $25 billion in insured losses. That means Katrina could prove more costly than record-setting Hurricane Andrew in 1992, which caused an inflation-adjusted $21 billion in losses.
Oil prices jumped by more than $3 a barrel on Tuesday, climbing above $70 a barrel, amid uncertainty about the extent of the damage to the Gulf region's refineries and drilling platforms.
By midday Tuesday, Katrina was downgraded to a tropical depression, with winds around 35 mph. It was moving northeast through Tennessee at around 21 mph, with the potential to dump 8 inches of rain and spin off deadly tornadoes.
Katrina left 11 people dead in its soggy jog across South Florida last week, as a much weaker storm.
---
All Katrina victims need is a tape of the Bible (since many of them can't read anyway) so they ca
From http://www.landoverbaptist.org/news0905/relief.html
(My personal favorite part of this whole thing is the *trademark* sign next to *True Christians*)
Help Us Send Bibles to the Victims of Hurricane Katrina!

Faith-Based Response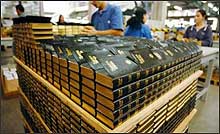 Freehold, Iowa - Landover Baptist Church members have been glued to their television sets for the last few weeks, watching survivors of God's powerful hurricane (named Katrina by secular meteorologists) try to make sense of their ravaged lives. When you live in an area of the world God despises, and He gets ready to blow it off the map, you'd best duck low or high tail it out of town, says Pastor Deacon Fred. The Bible teaches us that when it comes to wiping out sinners, God has a history of having some pretty bad aim. This time I understand He knocked down a few church steeples and even took some good Christian folks back home with Him to Jesus.
What saddens members of the Landover Baptist community the most however, is that the unsaved world is hell-bent on doling out artificial optimism to the victims of God's latest attack. They are providing food, money, gasoline, and shelter, says Pastor Deacon Fred. These are temporary gifts that give these poor lost people a false hope! The only real hope comes from the Word of God! The Holy Bible! These folks need to get fed and sheltered on the Word of God. We daresn't open our doors to the homeless, because we know it never gets at the real source of their problem, and we always end up with dirty floors.
How are the lost of Katrina going to understand why God did this to them if they don't have a Bible to read? says Pastor Deacon Fred. How are they ever going to be able to prevent it from happening to them again, if they are not able to study the Word of God? Through the Bible, history teaches us that God has serious issues with large cities that condone prostitution, abortion, homosexuality, mixing of the races, sexual promiscuity, drunkenness, idol worship, practicing false religions (voodoo), and loud pulsing music. Some of them folks in New Orleans, were luckier than Lot's wife though - they stayed behind even though they received the message to get out, and God spared their lives.
It is understandable that the survivors of God's hurricane are confused, starving, homeless, and distraught - but as True Christians™ we know without a doubt in our hearts, that giving them food and shelter is not going to solve the biggest and only real problem in their lives. In fact, it will turn them into beggars and make their misery even worse. The issue that caused their condition is not an earthly condition at all. We know that it is an eternal condition, and there is only one sweet balm to soothe a lost soul who has no respect for the Gospel of Jesus Christ. And that is getting a Holy Bible KJV 1611 into their hands. From what I've seen of these survivors, I doubt many of them know how to read, so we will be sending Bibles on tape for them as well, says Pastor Deacon Fred. They can play the Bible tapes on the boom boxes it looks like they made it a priority to salvage or loot.
Landover Baptist's effort to assist in providing Bibles to victims of Hurricane Katrina is known as a, faith-based response. It is our heartfelt hope that some worthwhile people might be saved from a destruction much more powerful than God's hurricanes - for they are but a precursor to what is really going to happen on that great and glorious day when He finally gets so ticked-off He just blows up the whole world.
So help us by sending a spiritual relief offering of no less than $100 (we do not accept checks, so please send cash, or money order) to:
BIBLES FOR HURRICANE VICTIMS
Landover Baptist Ministries
777 Soulwinner's Lane
Freehold, Iowa
If you are paying by credit card, please address your payment to:
Wexler Offshore Holdings - Care of Landover Baptist Ministries
What Will Be Done With My Faith Based Response Donation?
Each $100 gift will absorb the cost of printing and recording *Bibles, and packaging.
Care packages to New Orleans flood victims will include the following:


1 King James 1611 Bible or Bible on Tape

1 Chick Tract (Assorted)

1 Self Addressed Stamped Envelope

A small insert containing instructions on where to send a financial love offering of thanks to the Landover Baptist Church once the recipient of the care package gets back on their feet and receives their first paycheck.
*Disclaimer: If Landover Baptist receives reports that hurricane victims are using the pages of our Bibles are for hygienic purposes, such as toilet paper, we reserve the right to end this faith-based response effort immediately.
---
Jindal Admits Katrina Story Was False
Jindal Admits Katrina Story Was False
Looks like the game is up.
Remember that story Bobby Jindal told in his big speech Tuesday night -- about how during Katrina, he stood shoulder-to-shoulder with a local sheriff who was battling government red tape to try to rescue stranded victims?
Turns out it wasn't actually, you know, true.
In the last few days, first Daily Kos, and then TPMmuckraker, raised serious questions about the story, based in part on the fact that no news reports we could find place Jindal in the affected area at the specific time at issue.
Jindal had described being in the office of Sheriff Harry Lee "during Katrina," and hearing him yelling into the phone at a government bureaucrat who was refusing to let him send volunteer boats out to rescue stranded storm victims, because they didn't have the necessary permits. Jindal said he told Lee, "that's ridiculous," prompting Lee to tell the bureaucrat that the rescue effort would go ahead and he or she could arrest both Lee and Jindal.
But now, a Jindal spokeswoman has admitted to Politico that in reality, Jindal overheard Lee talking about the episode to someone else by phone "days later." The spokeswoman said she thought Lee, who died in 2007, was being interviewed about the incident at the time.
This is no minor difference. Jindal's presence in Lee's office during the crisis itself was a key element of the story's intended appeal, putting him at the center of the action during the maelstrom. Just as important, Jindal implied that his support for the sheriff helped ensure the rescue went ahead. But it turns out Jindal wasn't there at the key moment, and played no role in making the rescue happen.
There's a larger point here, though. The central anecdote of the GOP's prime-time response to President Obama's speech, intended to illustrate the threat of excessive government regulation, turns out to have been made up.
Maybe it's time to rethink the premise.
http://tpmmuckraker.talkingpointsmemo.com/2009/02/jindal_admits_katrina_story_was_false.php?ref=fp1
---
I wasn't kidding. I don't remember a disaster like Katrina during the Clinton sm
presidency with someone inexperienced at the helm of the fed agency responsible for it, but I will do my research on travelgate.
---
Fact Check. Katrina: What Happened When (long article)
Katrina: What Happened When


It will take months to get the full story, but meanwhile here are some of the key facts about what happened and when officials acted.

September 16, 2005
Summary
Multiple investigations are likely into the response by federal, state, and local officials to the disastrous flooding of New Orleans from Hurricane Katrina. New facts are still emerging, and we expect it will be months or years before a full picture can be properly assessed.
In response to numerous requests, we present here a brief timeline of events, as best as we can document them from public records and the best news reporting from the scene. We do not blame or excuse anyone, and leave it to others to judge what, if anything, could or should have been done differently. All times are converted to Central Daylight Time.
Analysis
July 23, 2004 - 13 Months Before Katrina
The Federal Emergency Management Agency (FEMA) conducts Hurricane Pam exercise to assess results of a theoretical Category 3 hurricane. It assumes that a storm with 120-mph winds would force Lake Pontchartrain's waters over the tops of the New Orleans' 17.5-foot levees and through a gap in the levee system would flood major portions of the city and would damage up to 87 percent of the city's homes. The Times-Picayune reports that officials expect up to half the city's residents won't evacuate and that many will be trapped in attics, on rooftops, and in makeshift shelters for days.
—In Case of Emergency, New Orleans Times-Picayune, as posted on the website of the Louisiana Homeland Security & Emergency Preparedness, 20 Jul 2004.
Friday, Aug 26 2005 - 3 Days Prior to Katrina's Louisiana Landfall
Hurricane Katrina strikes Florida between Hallandale Beach and North Miami Beach as a Category 1 hurricane with 80 mph winds. Eleven people die from hurricane-related causes.
—A chronology of Hurricane Katrina and its aftermath, Associated Press, 3 Sep 2005.
The storm heads into the Gulf of Mexico and by 10:30 am CDT is reported to be rapidly strengthening.
—Hurricane Katrina Special Advisory Number 13 , National Hurricane Center, 26 Aug 2005.
Louisiana Governor Kathleen Blanco declares a State of Emergency in Louisiana.
—Governor Blanco Declares State of Emergency, Louisiana Governor's Office, 26 Aug 2005.
Saturday, Aug 27 2005 - 2 Days Prior
Blanco asks President Bush to declare a State of Emergency for the state of Louisiana due to Hurricane Katrina. Bush does so, authorizing the Department of Homeland Security and FEMA to coordinate all disaster relief efforts… and freeing up federal money for the state.
—Governor Blanco asks President to Declare an Emergency for the State of Louisiana due to Hurricane Katrina, Louisiana Governor's Office , 27 Aug 2005.
—Statement on federal Emergency Assistance for Louisiana, Office of the White House Press Secretary, 27 Aug 2005.
Katrina is a Category 3 storm, predicted to become Category 4. At 4pm CDT, it is still 380 miles from the mouth of the Mississippi.
—Hurricane Katrina Special Advisory Number 18, National Hurricane Center , 26 Aug 2005.
Director of the National Hurricane Center, Max Mayfield, calls the governors of Louisiana and Mississippi and the mayor of New Orleans to warn of potential devastation. The next day he participates in a video conference call to the President, who is at his ranch in Crawford, Texas.
—Tamara Lush, For forecasting chief, no joy in being right , St. Petersburg Times , 30 Aug 2005.
Sunday, Aug. 28 2005 - 1 Day Prior
1 a.m. - Katrina is upgraded to a Category 4 storm with wind speeds reaching 145 mph.
—Hurricane Katrina Special Advisory Number 20, National Hurricane Center, 28 Aug 2005.
7 a.m. - Katrina is upgraded to a potentially catastrophic Category 5 storm. NOAA predicts coastal storm surge flooding of 15 to 20 feet above normal tide levels.
—Hurricane Katrina Special Advisory Number 22, National Hurricane Center , 28 Aug 2005.
—New Orleans braces for monster hurricane, CNN.com, 29 Aug 2005.
9:30 a.m. - With wind speeds reaching 175 mph, New Orleans Mayor Ray Nagin orders a mandatory evacuation of the city after speaking with Bush. The evacuation call comes only 20 hours before Katrina would make landfall – less than half the time that researchers had determined was necessary to evacuate the city.
—Gordon Russell, Nagin orders first-ever mandatory evacuation of New Orleans , New Orleans Times-Picayune , 31 Aug 2005.
—Lise Olsen, City had evacuation plan but strayed from strategy , Houston Chronicle , 8 Sep 2005.
10 a.m. - NOAA raises their estimate of storm surge flooding to 18 to 22 feet above normal tide levels. The levee protecting New Orleans from Lake Pontchartrain is only 17.5 feet tall; the Mississippi River levee reaches 23 feet.
—Hurricane Katrina Special Advisory Number 23 , National Hurricane Center , 28 Aug 2005.
The Associated Press reports that New Orleans could become a vast cesspool tainted with toxic chemicals, human waste and even coffins released…from the city's legendary cemeteries.
The storm threatened an environmental disaster of biblical proportions , one that could leave more than 1 million people homeless, the AP says.
—Matt Crenson, Katrina may create environmental catastrophe on epic scale, Associated Press , 28 Aug 2005.
11:31 a.m. - The President – at his ranch in Crawford – speaks briefly to reporters. His statement contains 203 words about Katrina and 819 congratulating Iraqis on their new constitution. We will do everything in our power to help the people in the communities affected by this storm, he says of the approaching hurricane.
—President Discusses Hurricane Katrina , Congratulates Iraqis on Draft Constitution, Prairie Chapel Ranch, Crawford, Texas, 28 Aug 2005.
8:30 p.m. - An empty Amtrak train leaves New Orleans, with room for thousands of potential evacuees. We offered the city the opportunity to take evacuees out of harm's way…The city declined, said Amtrak spokesman Cliff Black. The train left New Orleans no passengers on board.
—Susan Glasser, The Steady Buildup to a City's Chaos , The Washington Post , 11 Sep 2005.
Two weeks later, Nagin denies on NBC's Meet the Press that Amtrak offered their services. Amtrak never contacted me to make that offer, the mayor tells host Tim Russert. I have never gotten that call, Tim, and I would love to have had that call. But it never happened.
— Interview with Mayor Nagin , Meet the Press, NBC, 11 Sep 2005.
Monday August 29, 2005 - Day of Katrina
6 a.m. - Katrina makes landfall on Louisiana coast as a strong Category 4 storm, with sustained winds of nearly 145 mph and predicted coastal storm surge of up to 28 feet. The National Hurricane Center warns that some levees in the greater New Orleans area could be overtopped. It says a weather buoy located about 50 miles east of the mouth of the Mississippi river had reported waves heights of at least 47 feet.
—Hurricane Katrina Intermediate Advisory Number 26A …Corrected, National Hurricane Center , 29 Aug 2005.
8.a.m. - The storm surge sends water sloshing up the Industrial Canal, and local officials immediately report flooding on both sides. Winds break a barge loose and it strikes the levee.
—John McQuaid, Katrina trapped city in double disasters, New Orleans Times-Picayune, 7 Sep 2005.
9 a.m. - The eastern part of the city and Bernard Parish are already flooded several feet deep, even before the eye of the storm has passed. Thousands of survivors are trapped. But worse flooding is to come: within hours, city canal floodwalls will also collapse and a second, slower wave of flooding will take place.
—John McQuaid, Katrina trapped city in double disasters , New Orleans Times-Picayune , 7 Sep 2005.
11 a.m. - New Orleans is spared a direct hit, as the center of the storm passes over the Louisiana-Mississippi state line 35 miles away from the city. Maximum sustained winds are now reduced, but still a strong Category 3 storm with 125 mph winds.
—Hurricane Katrina Advisory Number 27, National Hurricane Center , 29 Aug 2005.
11:06 a.m . - Bush promotes his Medicare prescription drug benefit at a 44-minute event in El Mirage, Arizona. He devotes 156 words to the hurricane, among them: I want the folks there on the Gulf Coast to know that the federal government is prepared to help you when the storm passes. I want to thank the governors of the affected regions for mobilizing assets prior to the arrival of the storm to help citizens avoid this devastating storm.
—President Participates in Conversation on Medicare , White House , 29 Aug 2005.
Late Morning (exact time uncertain) - The vital 17th Street Canal levee gives way, sending the water from Lake Pontchartrain into the city in a second, slower wave of flooding. A full day will pass before state or federal officials fully realize what is happening.
—John McQuaid, Katrina trapped city in double disasters , New Orleans Times-Picayune , 7 Sep 2005.
Eventually, engineers will find five separate places where concrete floodwalls gave way. They will still be debating and studying the causes of the failures two weeks after the storm.
—John McQuaid, Mystery surrounds floodwall breaches; Could a structural flaw be to blame ? New Orleans Times-Picayune , 13 Sep 2005.
About 11 a.m. (exact time uncertain) - Roughly five hours after Katrina strikes the coast, FEMA director Michael Brown sends a memo – later obtained and made public by The Associated Press – requesting an additional 1,000 rescue workers from the Department of Homeland Security within 48 hours and 2,000 more within seven days. It is addressed to his boss, Michael Chertoff, Secretary of Homeland Security. Brown refers to Katrina as this near catastrophic event (our emphasis.) He proposes sending the workers first for training in Georgia or Florida, then to the disaster area when conditions are safe. Among the duties of the workers, Brown proposes, is to convey a positive image of disaster operations to government officials, community organizations and the general public. (Emphasis added.)
—Michael D. Brown, Memorandum to Michael Chertoff, Secretary of Homeland Security , 29 Aug 2005.
Later Brown will say FEMA itself has only 2,600 employees nationwide, and normally relies on state workers, the National Guard, private contractors and other federal agencies during disaster relief operations.
—David D. Kirkpatrick and Scott Shane, Ex-FEMA Chief Tells of Frustration and Chaos , New York Times, 15 Sep 2005: A1.
4:40 p.m. - Bush appears in Rancho Cucamonga, California for another Medicare event. He again devotes a few words to Katrina: It's a storm now that is moving through, and now it's the time for governments to help people get their feet on the ground. . . . For those of you who are concerned about whether or not we're prepared to help, don't be. We are. We're in place. We've got equipment in place, supplies in place. And once the -- once we're able to assess the damage, we'll be able to move in and help those good folks in the affected areas.
—President Discusses Medicare, New Prescription Drug Benefits ,James L. Brulte Senior Center Rancho Cucamonga, California, 29 Aug 2005.
Time uncertain - Blanco calls Bush, saying, Mr. President, we need your help. We need everything you've got. Bush later assures her that help is on the way.
—James Carney et al, 4 Places Where the System Broke Down, Time , 11 September 2005.
—Evan Thomas, How Bush Blew It, Newsweek , 19 September 2005.
Tuesday August 30, 2005 - 1 Day After Katrina
Dawn - Water has continued to rise overnight and is coursing through the city's central business district, still rising. Eventually, at least least 80 percent of New Orleans is under water. Reports of looting surface.
—John McQuaid, Katrina trapped city in double disasters , New Orleans Times-Picayune , 7 Sep 2005.
11:04 a.m. - In San Diego, California, Bush delivers a 31-minute speech marking the 60th anniversary of the end of World War II. Of Katrina, he says, we're beginning to move in the help that people need.
—President Commemorates 60th Anniversary of V-J Day Naval Air Station North Island San Diego, California 30 Aug 2005.
Immediately after the speech, White House Press Secretary Scott McClellan tells reporters that Bush will return to Crawford, then cut short his Texas stay and go to Washington. McClellan says, This is one of the most devastating storms in our nation's history. I think that's becoming clear to everyone. The devastation is enormous.
—Press Gaggle by Scott McClellan , Naval Air Station North Island San Diego, California, 30 Aug 2005.
3 p.m. - With water still pouring into the city, officials report that the Army Corps of Engineers has surveyed the damage to levees and will soon attempt repair.
At a Baton Rouge briefing, Sen. Mary Landrieu reports that most of the roads and highways are impassable, and water is still coming into the city of New Orleans. The water is up to the rooftops in St. Bernard and Plaquemine. We think there may be only one major way into the city right now and it has to be used for emergency personnel to get food and water and rescue equipment to people who are in desperate need.
But even now, federal and state officials alike seem unaware of the full extent of the unfolding disaster.
FEMA's coordinator William Lokey says of the still-rising water:



FEMA's Bill Lokey: In the metropolitan area in general, in the huge majority of areas, it's not rising at all. It's the same or it may be lowering slightly. In some parts of New Orleans, because of the 17th Street breach, it may be rising and that seemed to be the case in parts of downtown.




I don't want to alarm everybody that, you know, New Orleans is filling up like a bowl. That's just not happening.
None of the state officials present at the press conference correct Lokey's mistaken remark. And Blanco seems puzzled when a reporter asks the governor about the water pollution that will later emerge as a major public health risk:



Q: Does the water that's downtown -- does this represent what everyone feared before the hurricane would come, that you would have this toxic soup that has overrun the city?




Blanco: It didn't -- I wouldn't think it would be toxic soup right now. I think it's just water from the lake, water from the canals. It's, you know, water.




Q: Well, something could be underneath that water.




Blanco: Pardon?
—The Situation Room; Hurricane Katrina Aftermath ; Rescue Efforts and Assessing the Damage, Transcript, CNN, 30 Aug 2005.
Wednesday August 31, 2005 - 2 Days After
Morning - Bush, still in Crawford, participates in a half-hour video conference on Katrina with Vice President Cheney (who is in Wyoming) and top aides. Later, he boards Air Force One and flies over New Orleans on his way back to Washington. His press secretary tells reporters: The President, when we were passing over that part of New Orleans, said, 'It's devastating, it's got to be doubly devastating on the ground.'
—Press Gaggle with Scott McClellan Aboard Air Force One, En Route Andrews Air Force Base, MD, 31 Aug 2005.
Looting intensifies in New Orleans. Nagin orders most of the police to abandon search and rescue missions for survivors and focus on packs of looters who are becoming increasingly violent. The AP reported, Police officers were asking residents to give up any guns they had before they boarded buses and trucks because police desperately needed the firepower.
—Mayor: Katrina may have killed thousands , Associated Press , 31 Aug 2005
Late Afternoon - Bush, back at the White House, holds a cabinet meeting on Katrina and speaks for nine minutes in the Rose Garden to outline federal relief efforts. He says FEMA has moved 25 search and rescue teams into the area. As for those stranded at the Superdome, Buses are on the way to take those people from New Orleans to Houston, the President says.
—President Outlines Hurricane Katrina Relief Efforts , The Rose Garden, 31 Aug 2005.
Thursday September 1, 2005 - 3 Days After
7 a.m. - Bush says I don't think anybody anticipated the breach of the levees. His remark comes in a live interview on ABC's Good Morning America :



Bush: I want people to know there's a lot of help coming. I don't think anybody anticipated the breach of the levees. They did anticipate a serious storm. These levees got breached and as a result, much of New Orleans is flooded and now we're having to deal with it and will.
—"Good Morning America," Transcript, ABC News, 1 September 2005.
Time Uncertain - Red Cross President Marsha Evans asks permission to enter the city with relief supplies, but Louisiana state officials deny permission.
—Red Cross: State rebuffed relief efforts: Aid organization never got into New Orleans, officials say CNN.com , 9 Sep 2005.
Thirty-thousand National Guard Troops from across the country are ordered to report to the Gulf Coast, but many do not arrive for several days.
—More Navy Ships, National Guard troops head to the Gulf Coast , Associated Press, 1 Sep 2005.
The first buses arrive at the Superdome to take evacuees to the Astrodome in Houston, 355 miles away. But the evacuation goes slowly and will take several days.
—Evan Thomas, The Lost City, Newsweek , 12 September 2005.
Associated Press photographer Phil Coale makes an aerial shot of scores of school buses sitting unused in a flooded New Orleans lot. Many will later question why city officials did not use these busses to evacuate residents who lacked transportation prior to the hurricane, or at least move them to higher ground for use later.
—AP Photo/Phil Coale Aerial view of flooded school busses, Yahoo News, 1 Sep 2005.
Evening - In a special report that is typical of the picture that television is conveying to the world, CNN Correspondent Adaora Udoji reports: Three days after Hurricane Katrina, and the situation is getting more desperate by the minute. Thousands are still stranded in misery. . . . They are marching in search of food, water and relief. They're surrounded by a crumbling city and dead bodies. Infants have no formula, the children no food, nothing for adults, no medical help. They're burning with frustration, and sure they have been forgotten.
And CNN's Medical Correspondent, Dr. Sanjay Gupta, reports live from Charity hospital in New Orleans: It doesn't appear to be safe now, but it seems that a sniper standing atop one of the buildings just above us here and firing down at patients and doctors as they were trying to be evacuated, unbelievable. It just boggles my mind, actually.
—Anderson Cooper 360 Degrees, Special Edition: Hurricane Katrina , CNN Transcripts , 1 Sept 2005.
Brown says FEMA officials were unaware for days that – besides the hurricane victims stranded in the Superdome – thousands more had taken refuge in the New Orleans Convention Center nearby. Speaking from Baton Rouge in a live interview with CNN's Paula Zahn, he says:



Brown : And so, this -- this catastrophic disaster continues to grow. I will tell you this, though. Every person in that Convention Center, we just learned about that today . And so, I have directed that we have all available resources to get to that Convention Center to make certain that they have the food and water, the medical care that they need...
Q: Sir, you aren't telling me...
Brown : ... and that we take care of those bodies that are there. . . .
Q: Sir, you aren't just telling me you just learned that the folks at the Convention Center didn't have food and water until today, are you? You had no idea they were completely cut off?
Brown: Paula, the federal government did not even know about the Convention Center people until today.
—Paula Zahn Now, Desperation in New Orleans; Interview With FEMA Director Mike Brown, Transcript , 1 Sep 2005.
Later, Brown will say he was wrong and that FEMA actually knew about the victims at the Convention Center 24 hours earlier but was unable to reach them until Thursday.
—David D. Kirkpatrick and Scott Shane, Ex-FEMA Chief Tells of Frustration and Chaos, New York Times 15 Sep 2005: A1
Evening - Nagin delivers a rambling diatribe in an interview with local radio station WWL-AM, blaming Bush and Blanco for doing too little:



Nagin : I need reinforcements, I need troops, man. I need 500 buses, man. . .
I've got 15,000 to 20,000 people over at the convention center. It's bursting at the seams. The poor people in Plaquemines Parish. ... We don't have anything, and we're sharing with our brothers in Plaquemines Parish.
It's awful down here, man.
. . . Don't tell me 40,000 people are coming here. They're not here. It's too doggone late. Now get off your asses and do something , and let's fix the biggest goddamn crisis in the history of this country.
—Mayor to feds: 'Get off your asses,' Transcript of radio interview with New Orleans' Nagin, CNN.com, 2 Sep 2005.
Friday September 2, 2005 - 4 Days After
The Red Cross renews its request to enter the city with relief supplies. We had adequate supplies, the people and the vehicles, Red Cross official Vic Howell would later recall. Louisiana officials say they needed 24 hours to provide an escort and prepare for the Red Cross's arrival. However, 24 hours later, a large-scale evacuation is underway and the Red Cross relief effort never reaches New Orleans.
—Red Cross: State rebuffed relief efforts: Aid organization never got into New Orleans, officials say CNN.com , 9 Sep 2005.
8:02 a.m. - Bush leaves the White House to tour the hurricane area. He says, A lot of people are working hard to help those who have been affected, and I want to thank the people for their efforts. The results are not acceptable .
—President Heads to Hurricane Katrina Affected Areas, The South Lawn , 2 Sep 2005.
10:35 am - Bush, arriving in Alabama to tour the disaster area, says of the FEMA director at a live news conference: Brownie, you're doing a heck of a job. The FEMA director is working 24 -- (applause) -- they're working 24 hours a day. Again, my attitude is, if it's not going exactly right, we're going to make it go exactly right. If there's problems, we're going to address the problems.
—President Arrives in Alabama, Briefed on Hurricane Katrina, Mobile Regional Airport Mobile , Alabama 2 Sep 2005.
Noon - A convoy of military trucks drives through floodwaters to the convention center, the first supplies of water and food to reach victims who have waited for days. Thousands of armed National Guardsmen carrying weapons stream into the city to help restore order. Commanding is Army Lt. Gen. Russel Honoré, a cigar-chomping Louisiana native who soon wins praise for his decisive style of action.
—Allen G. Breed, National Guardsmen Arrive in New Orleans, The Associated Press, 2 Sep 2005.
5:01p.m. - Bush speaks at New Orleans airport, saying, I know the people of this part of the world are suffering, and I want them to know that there's a flow of progress. We're making progress.
—President Remarks on Hurricane Recovery Efforts , Louis Armstrong New Orleans International Airport 2 Sep 2005.

Saturday, September 3, 2005 - 5 Days After
10:06 am - Bush announces he is ordering additional active duty forces to the Gulf coast. The enormity of the task requires more resources, he says in his Saturday radio address. In America we do not abandon our fellow citizens in their hour of need. He says 4,000 active-duty troops are already in the area and 7,000 more will arrive in the next 72 hours. Those will add to some 21,000 National Guard troops already in the region.
—President Addresses Nation , Discusses Hurricane Katrina Relief Efforts, The Rose Garden , 3 Sep 2005.
Sunday, September 4, 2005 - 6 Days After
The President issues a proclamation ordering the US Flag to be flown at half-staff at all federal building until Sept. 20 as a mark of respect for the victims of Hurricane Katrina.
—Proclamation by the President: Honoring the Memory of the Victims of Hurricane Katrina, 4 Sep 2005.
Monday September 5, 2005 - One Week After
U.S. Army Corps of Engineers repair the levee breach on the 17th Street Canal and begin to pump water from the city.
—Pumps begin to drain New Orleans. CNN.com , 6 Sep 2005.
Tuesday September 6, 2005 - 8 Days After
FEMA asks reporters to refrain from taking pictures of the dead. Reuters quotes a FEMA spokeswoman as sending an email saying, The recovery of victims is being treated with dignity and the utmost respect and we have requested that no photographs of the deceased be made by the media.
—Deborah Zabarenko, Media groups say FEMA censors search for bodies , Reuters , 7 Sep 2005
Nagin orders police and law enforcement officials to remove everyone from the city who is not involved in recovery efforts. Despite this order, many residents remain in New Orleans, refusing to leave.
—Cain Burdeau, New Orleans Mayor orders Forced Evacuation , Associated Press , 7 Sep 2005.
Wednesday September 7, 2005 - 9 Days After
FEMA brings in Kenyon International Services from Houston to assist in recovering bodies, many of which have been left in the open since the storm hit. A week later, state and federal officials will still be bickering over who is to pay the $119,000 daily expense of the outside mortuary specialists, and many bodies will still lie uncollected in the open and in drained buildings two weeks after the storm.
—Michelle Krupa, Louisiana hires firm to help recover bodies ; Blanco says FEMA moved too slowly, New Orleans Times-Picayune , 14 Sep 2005.
A bipartisan joint Congressional Committee is announced to investigate the response to Hurricane Katrina at all levels of government, as federal, state, and local officials continue to blame each other for the slow response in dealing with the aftermath of Hurricane Katrina.
—GOP leaders agree to joint Katrina hearings, CNN.com , 8 Sep 2005.
Friday September 9, 2005 - 11 Days After
Chertoff removes Brown from his role in managing the Katrina relief effort, and puts Coast Guard Vice Admiral Thad W. Allen in charge.
—Peter Baker, FEMA Director Replaced as Head of Relief Effort , Washington Post , 10 Sep 2005: A01.
Monday September 12, 2005 - Two Weeks After
Brown resigns as head of FEMA saying, it is important that I leave now to avoid further distraction from the ongoing mission of FEMA.
—Statement by Michael D. Brown, Under Secretary of Department of Homeland Security Emergency Preparedness & Response and Director of the Federal Emergency Management Agency, News Release , FEMA, 12 Sep 2005.
September 13, 2005
11:30 a.m. – Bush takes responsibility for the federal government's failures while speaking at a press conference with Iraqi President Talabani.



Bush: Katrina exposed serious problems in our response capability at all levels of government. And to the extent that the federal government didn't fully do its job right, I take responsibility. I want to know what went right and what went wrong.
—"President Welcomes President Talabani of Iraq to the White House," The East Room, news release , 13 Sep 2005.
Thursday, September 15, 2005
Brown, in an interview published in the New York Times , says the governor and her staff had failed to organize a coherent state effort in the days after the hurricane, and that his field officers in the city were reporting an out of control situation to his superiors. He says he asked state officials, What do you need? Help me help you. . . . The response was like, 'Let us find out,' and then I never received specific requests for specific things that needed doing. A spokesman for the governor said, That is just totally inaccurate.
—David D. Kirkpatrick and Scott Shane, Ex-FEMA Chief Tells of Frustration and Chaos , New York Times 15 Sep 2005: A1
8:02 p.m. - Bush says, in a prime-time, televised speech from New Orleans, that the system, at every level of government, was not well-coordinated, and was overwhelmed in the first few days. He says the military should have a greater role in reacting to future large disasters. Congress is preparing an investigation, and I will work with members of both parties to make sure this effort is thorough. He promises massive aid, tax breaks, and loan guarantees to aid rebuilding, saying that there is no way to imagine America without New Orleans, and this great city will rise again.
—President Discusses Hurricane Relief in Address to the Nation, Jackson Square, New Orleans, Louisiana 15 Sep 2005.
---
E-mail, memos detail Katrina's political storm
see link
---
Democratic Parishes excluded in Bush's pre-Katrina emergency declaration
(Transform the formerly poor parishes in Louisiana into rich, gated parishes and which political party do YOU think will emerge? Maybe the REAL reason for Cheney's leg surgery was so he could do better rain dances in poverty stricken areas of the U.S. before the 2005 hurricane season is over.)
From: http://www.spectrumz.com/z/fair_use/2005/09_09d.html
September 9, 2005
Democratic Parishes excluded in Bush's pre-Katrina emergency declaration
The southern parishes (counties) in Louisiana are heavily Democrat counties, while the counties named in Bush's emergency declaration tend to vote Republican
From the Whitehouse website, posted August 27
Statement on Federal Emergency Assistance for Louisiana
The President today declared an emergency exists in the State of Louisiana and ordered Federal aid to supplement state and local response efforts in the parishes located in the path of Hurricane Katrina beginning on August 26, 2005, and continuing.
The President's action authorizes the Department of Homeland Security, Federal Emergency Management Agency (FEMA), to coordinate all disaster relief efforts which have the purpose of alleviating the hardship and suffering caused by the emergency on the local population, and to provide appropriate assistance for required emergency measures, authorized under Title V of the Stafford Act, to save lives, protect property and public health and safety, or to lessen or avert the threat of a catastrophe in the parishes of Allen, Avoyelles, Beauregard, Bienville, Bossier, Caddo, Caldwell, Claiborne, Catahoula, Concordia, De Soto, East Baton Rouge, East Carroll, East Feliciana, Evangeline, Franklin, Grant, Jackson, LaSalle, Lincoln, Livingston, Madison, Morehouse, Natchitoches, Pointe Coupee, Ouachita, Rapides, Red River, Richland, Sabine, St. Helena, St. Landry, Tensas, Union, Vernon, Webster, West Carroll, West Feliciana, and Winn.
Specifically, FEMA is authorized to identify, mobilize, and provide at its discretion, equipment and resources necessary to alleviate the impacts of the emergency. Debris removal and emergency protective measures, including direct Federal assistance, will be provided at 75 percent Federal funding.
Representing FEMA, Michael D. Brown, Under Secretary for Emergency Preparedness and Response, Department of Homeland Security, named William Lokey as the Federal Coordinating Officer for Federal recovery operations in the affected area.
FOR FURTHER INFORMATION CONTACT: FEMA (202) 646-4600.
---
no response ....
---
No response
We are not supposed to cross post, so I am respecting the administrator's request.
---
My response
There is no sound byte answer about Rev. Wright. I'll give you a hint. It has to do with the fact that men of his generation experienced life in America differently than the whites did. Historically, many black churches have been and are political forums, stemming from the days of slavery, when the churches provided a refuge where freedom of speech was possible. I don't know what Obama did or did not hear, and neither do you. What I do know is that he has written extensively about the confusion he had over the "black" part of his identity and part of his search for meaning, purpose and belonging in his younger days was played out in South Chicago. If you have read anything about the church at all, you will know that they have been engaged in many extensive and successful outeach programs in their community and I suspect his "association" with Trinity was focused and centered around that. Too bad a person cannot be judged but his deeds, rather than wild speculation, innuendo and smear campaigns about the company he keeps.
---
A response from.....sm
To the first 4 paragraphs decrying the decay of black leadership while attempting to lay the blame at the feet of the democratic party, encouraging blacks to bail and proclaiming the dawn of a new day for black conservatism, all that needs to be said is yeah, right. The proof is in the pudding. Black voters are backing Obama 94-1, according to this random poll citation: http://www.quinnipiac.edu/x1295.xml?ReleaseID=1192 …6% stampede, and we have not even made it through the convention. Great big whoop.

The abortion graphics let us know that the minister is pro-life. OK. Fine. Next, we have this twisted accusation that Obama supports partial birth abortion. That is not his position on abortion, and it is laid out in no uncertain terms on his website and countless times in his speeches and townhall meetings. What he said is that he supports the notion that things should stay as they have been and that those issues should be determined on a state-by-state basis at the local level. Same thing with regard to same-sex marriage and the federal government not being in the business of defining the meaning of marriage, which he clearly believes is a union between a man and a woman (not exactly the most popular position in the gay community).

Yet despite this, the pastor insists he is champion of the gay agenda and the abortion "industry." Never mind that the democratic party platform includes many pro-active initiatives that conservatives will continue to obstruct regarding abortion prevention through sex education, birth control, encouraging and enabling single parents to keep their children with parenting education, job skills training and making adoption laws more user friendly. Most democrats perceive the conservative views on abortion as caring about unborn right from conception to the moment of birth. Beyond that, the babies kind of fall off the radar screen.

For this radical stance (i.e., preserving status quo), the pastor evokes the Barack HUSSEIN Obama slur and is all indignant that Obama puts himself out there as a Christian. Champion of the dead horse drumbeat. This guy is not looking real credible at this point. Performer, he calls him, doubting Obama's sincerity. The "God's on our side" mantra rings hollow as well, considering the conservative pathologic disdain for poverty and conflicts over notions such as the measure of a nation's moral character is only as strong as it's care for the least among us.

He then proceeds to twist the words of THE greatest black leader of modern times…MLK. The infanticide he referred to was the practice of killing female infants/gender selection in biblical patriarchal societies.…a practice emphatically condemned by the Islamic Prophet Mohammed in the Quran back in the day. Twist, turn, spin.

Lets see. Obama is evil incarnate because homophobic interpretations of the Bible do not impress him as much as the Sermon on the Mount? That would be the moral teachings of Jesus, to include the Lord's Prayer, the injunctions to "resist not evil" and "turn the other cheek", as well as Jesus' version of the Golden Rule. Other lines often quoted are the references to "salt of the Earth," "light of the world," and "JUDGE NOT, LEST YE BE JUDGED." These are the core beliefs of the Christian doctrine. Drag out the tar and feathers and hang him high for that sacrilege.

Then another call to arms for those 6% black conservatives, a 2nd reference to Barack HUSSEIN Obama. As for the upcoming black conservative youth, it is the youth vote from the remaining 94% blacks and whites alike that just might boost Obama over the top, last I heard.

Then of course, there are a few paragraphs of closing prayers. If this is what it means to be "right," this guy ends up making the Obama nation look better and better.

---
response
So you are saying all other media outlets except Fox are liberal and therefore cannot be trusted to provide accurate information. Therefore, you can only get true information from their network, because they tell you that is so. I see where you are coming from.
---
response
All the examples you use about being make to hate, if the individuals mentioned being indoctrinated resisted by using their minds to seek broader or alternative information could simply resist the information being forced on them and resist hating. Poor sentence structure, I admit.
---
response
McCain did the same thing when he was defeated in N. Caroline because Rove used dirty tactics like push polls calling people and asking if they would vote for McCain if they knew he had a biracial baby. McCain had to suck it up and stand next to Bush and announce that he would support him. I thought he was ethical enough to resist using such tactics when he the chance to campaign. but I was wrong.
---
response
Of course I believe they can. Luckily you tacked on white supremacists right there at the end or I would have been appalled at the assumption that non-caucasian, non-christian people are incapable of thinking for themselves.
---
response...
Both Bush and McCain supported privatizing social security IF a person wanted to...neither have advocated making it mandatory. Perhaps if that had been done in the first place, it would not have been a fund that a Democratic congress could have raided to fund other programs. I personally would like to have control of my own funds (except congress has already spent them) and put in a CD..not the stock market. So that govt grubby paws could not get at it anymore. But that is just me.

I think the operative word is McCain said he did not disagree. He did not say he himself would re-start the draft. In the world the way it is, if enlistment really dropped off, it might be necessary just so we would have the size Armed Forces we would need, should the need arise. That just makes good sense. A peace time draft might be a good thing...two years in the service might change the direction some kids might choose to go. Would also provide some skills training and the ability to go to college after their service...instead of gangs...instead of being on the street...learn a trade, get a job...I don't necessarily think it would be a bad thing. The Armed Forces have been good careers for a lot of men and women...the Armed Forces are not just for war. But again...that is just me.
---
See my response above. And you are right - sm
I think both sides need to leave the experience thing alone.
---